Company
Bitoumina S.A.
is industrial company producing bituminous products and trading fuels, bitumen, base oils and lubricants.
The company has state-of-the-art production and storage installations, situated in its own 63.000 sq.m. plot in Aghialos Thessaloniki. The total tank-storage capacity exceeds 25.000 cubic m., which is consisted of 1 heated bitumen tank of 7.100 cubic m., 3 liquid fuels tanks of 5.300 cubic m. each, 1 fuel oil tank of 1.000 cubic m. and many smaller secondary tanks.
Works are currently conducted for the expansion of the total tank-storage capacity to
55.000 cubic m.
The company's production installations are producing
modified bitumen
and all
bituminous products
.
Bitoumina S.A., based on its long experience and know-how of its people, widens its trading network in Greece, the Balkans and Turkey. At the same time, it solidifies its national and international position through international cooperations with companies and refineries from Russia, Europe and the Middle East.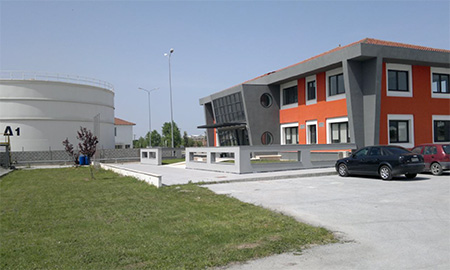 Bitoumina S.A. is one of the few companies in Greece with Type A Fuels Trading Lisence, Type B Marine Fuels Trading Lisence and Type D Bitumen Trading Lisence.
The afore-mentioned lisences provide the company with the right to trade and supply fuels and the right to trade bitumen in the Greek market and the neighboring countries (Albania - FYROM - Kosovo - Serbia - Bulgaria), which adds substantial potential to its business perspectives.
The company has already initiated the implementation of a medium-long term plan for the development of a network of gas stations operating under the company's badge, which will be supplied from the cooperating Greek and foreign refineries and from its own installations.